*This post is sponsored by Brookdale Senior Living. The information and opinions presented here are all mine. 
General forgetfulness is a normal part of the aging process. But if you're noticing your older parent or family member is having trouble with basic everyday tasks like using the phone, driving, finding their way home, remembering to take medications, or eating properly, they may be experiencing a loss of memory beyond what may be considered normal. 
According to the American Psychological Association, it's estimated that 15% – 20% of seniors over age 65 meet the criteria for something called Mild Cognitive Impairment (MCI). A time when our memories and cognitive function are just starting to "slip," with Mild Cognitive Impairment, seniors can often still take care of themselves and perform day-to-day tasks. 
For some, it does not progress and if caught early enough, studies have shown that symptoms of MCI can be improved or at least slowed with certain activities like physical and mental exercises. For others, MCI is the stopover between a healthy mind and dementia. One study of people diagnosed with MCI found that within 3 years, 65% of the group had progressed to a diagnosis of dementia (1) 
Dementia, a general term used to describe the loss of healthy cognitive functioning, thinking, and reasoning is not a natural part of aging. A staggering 33% of all women and 20% of men will go on to develop dementia. With a variety of causes (only one being Alzheimer's disease) those living with dementia can decline in health and well-being, be unable to take care of themselves, and may at some point require something called Memory Care. 
Fact: About 5.8 million people in the U.S. have Alzheimer's, the most common form of dementia 
What is Memory Care? 
Unfortunately, there may be a time when you realize that your loved one with dementia can't safely live on their own and they might even need a level of care that is more intense than you can provide. That's when it may be time for memory care, a type of assisted living that specializes in caring for those with Alzheimer's and dementia. 
Usually provided by a senior living community like Brookdale, Memory Care programs not only provide complete 24-hour care in a safe environment, but residents also can get assistance with daily living tasks, meal preparation, medication management, and medical monitoring. They can enjoy their days staying active in an environment that is designed to be easy and comfortable to navigate. 
The memory care program at Brookdale Senior Living is called Clare Bridge and is specifically designed for those with Alzheimer's and dementia. Their care associates are required to have a deeper level of training to be able to properly care for these residents and their individual needs. Continuing to evolve based on the latest research, Brookdale states the main goal of the program is to "help their residents feel a sense of belonging while providing safe activities to help maintain their abilities and encourage them to use their current skills." Not only do they take care of the meal planning, laundry, and care, but they also have daily programs, activities, and events specifically designed to help memory care residents work on their cognitive abilities. Residents here get to enjoy their hobbies, new activities, and stay social every day. 
"In everything we do, we strive to help our residents maintain a sense of themselves and a sense of identity, so if someone has always been very modest or it's always been important to them to maintain a certain look or certain style that all carry through in their care," says Kim Elliott, Senior VP of Clinical Services at Brookdale. "In the Clare Bridge program, we make sure that we're honoring the person's past interests, skills, and sense of themselves and maintain that in the face of living with the disease." And they're designed with extending as much freedom as possible "…At home, they're told 'nope, don't go through that door,' or 'no, you can't use that tool' — it can be a constant barrage of what they can't do," she says. "In a dementia care environment we're really striving to make things as safe as possible, and as a result, they're able to do more throughout the day and have more experiences of success." 
Because Alzheimer's and dementia progresses differently for every person the team at Brookdale customizes a plan for each and every potential resident while guiding the families through the process. Information gathered from families around the resident's lifestyle, personal habits, and health care needs are all keys to deciding whether assisted living or dementia care is the right fit for them.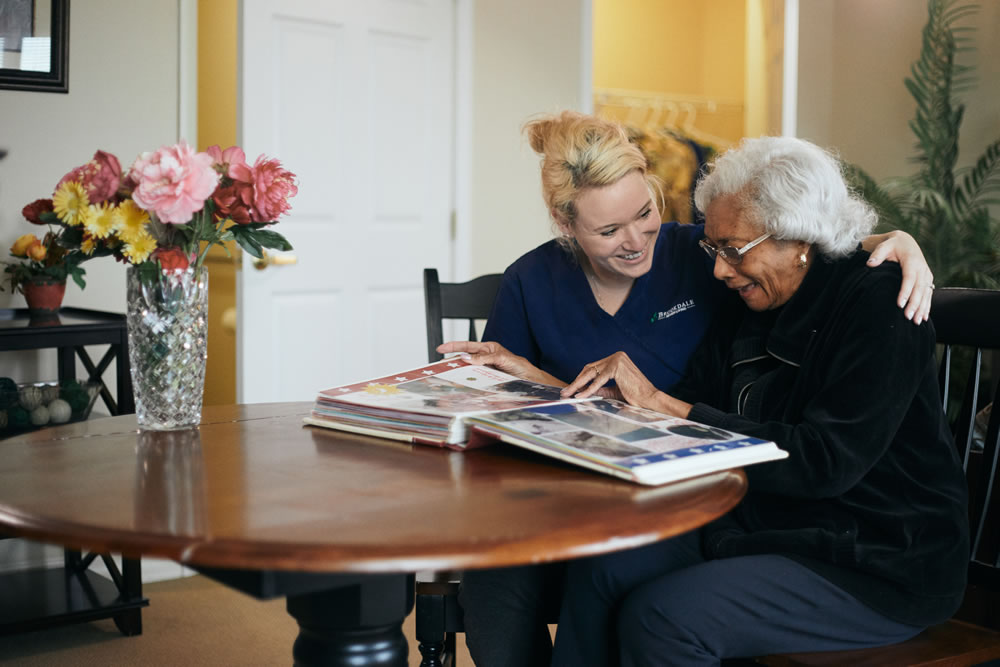 What Are The Signs That Someone Might Need Memory Care? 
Dementia causes changes to our brain's normal ability to remember, reason, and think. It can even change our perception of space, how we feel temperature, and decrease our vision and ability to balance. Not a one size fits all disease, dementia can have a variety of symptoms while causing changes in our usual behavior and ability to care for ourselves. And later stage dementia can accompany a drastic decline in other aspects of a person's health. For your loved one's health and safety, it's important to notice the signs early so they can get the help and care they need. 
According to the National Institute of Aging, some signs and behaviors that indicate it might be time for a senior's cognitive ability to be evaluated by a doctor include: 
●  Asking the same questions over and over again 
●  Getting lost in familiar places and easily disoriented 
●  Having trouble following simple directions and retaining information 
●  Becoming more confused about time, people, and places 
●  Forgetting to eat or take medication 
●  Struggles with bathing, grooming, hygiene, and general cleanliness around the house 
●  They're behaving unsafely (i.e. leaving the stove on) 
●  Personality changes 
●  Problems with math, handling finances, and understanding symbols 
●  Misplacing things in strange locations 
When dementia sets in, this is when taking care of ourselves can be incredibly difficult. And for some, it can even be dangerous for them to live on their own. Once your loved one has been officially diagnosed with dementia or a related degenerative cognitive condition by their doctor, this is the time to start planning for their future care. Early planning can make the transition smoother when and if the time comes for a move. 
The following symptoms might indicate that your loved one with dementia may benefit from memory care: 
● The person with dementia is becoming more irritable making their care more difficult. This can include emotional and verbal outbursts, physical resistance to care, accusatory or paranoid statements which can be difficult to handle as a family member. 
●  They're withdrawn and you see signs of anxiety, depression, loneliness, and isolation 
●  They're forgetting who family members and close friends are 
●  They have a lack of interest or difficulty engaging in meaningful activities 
●  They have an increase in agitation or restlessness later in the day, which may indicate a need for a structured day 
●  They're getting lost in familiar places, wandering, or going outside without knowing how to get home 
●  They're forgetting to take their medication on their own 
●  They're falling or becoming disoriented more often 
●  They're increasingly dependent on others for getting all their daily tasks done 
●  They need verbal cueing or physical gestures to prompt completing tasks 
●  They're losing weight loss or having difficulty eating 
●  They're not bathing or grooming 
●  They're having trouble with incontinence 
●  They're hallucinating 
Ideally, your parent or loved one should be involved in the decision of whether memory care is right for them. So it's better to get a diagnosis earlier rather than later, so they can still be a part of the conversation. But as a caregiver ultimately you have to make the decision when is the right time. Symptoms alone aren't the only determining factor that should decide when your loved one is put into memory care.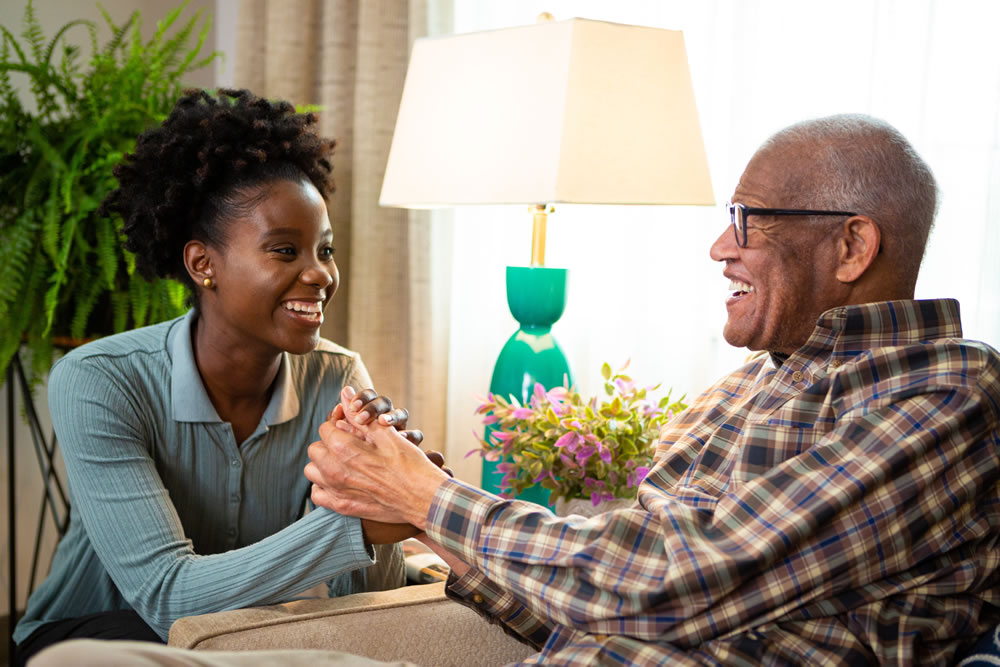 Other things to consider are:

 
Caregiver Stress 
It's only natural to want to take care of a family member with dementia. But as the disease progresses, being a caregiver of someone with this disease can pose challenges and unforeseen stresses. Besides the cognitive decline symptoms we've already discussed, late-stage dementia can accompany a decline in physical health as well that you may not be able to manage on your own. Also, someone with dementia may require round-the-clock care and not everyone has the means to up and leave their job. If you can't make it work even if you want to, memory care may be the best option 
They're Isolated and Depressed or Their Anxieties are Growing 
The onset of dementia can cause depression, which in turn can cause your loved one to lose interest in the things they used to love. They may also not want to socialize, either because it's becoming too difficult for them or they can't seem to make the interpersonal connections the way they used to. Memory loss can also cause someone to withdraw, which can make their condition worse. It can also cause them to have an increase in fears and anxiety about doing things they used to know and love. Memory care programs are designed to socialize your loved one while keeping them active and engaged in a safe and calming environment with things like music and even aromatherapy. 
Their Overall Health and Ability to Be Cared For 
Progressing dementia can accompany a variety of health challenges that can be difficult to manage like incontinence and hallucinations. Even simple grooming tasks like bathing or combing their hair can become really difficult as their mind declines. So going grocery shopping, cooking, and taking care of a household, and handling their medications may not be something they are able to handle. Memory care communities have the training and ability to monitor your loved one's health and vitals while making sure they get the daily care they need using techniques that those with memory loss and dementia respond to. 
They're Living in an Unsafe Environment 
Safety is one of the biggest concerns for those with dementia. Things like wandering and getting lost can increase their fears and anxieties, while putting them in dangerous situations. Also, people with dementia can often suddenly forget how to properly use potentially dangerous household appliances like the stove or iron. That combined with changes to their balance and other senses like hearing, vision, and even sensitivity to temperatures to cue danger can pose a risk to their safety.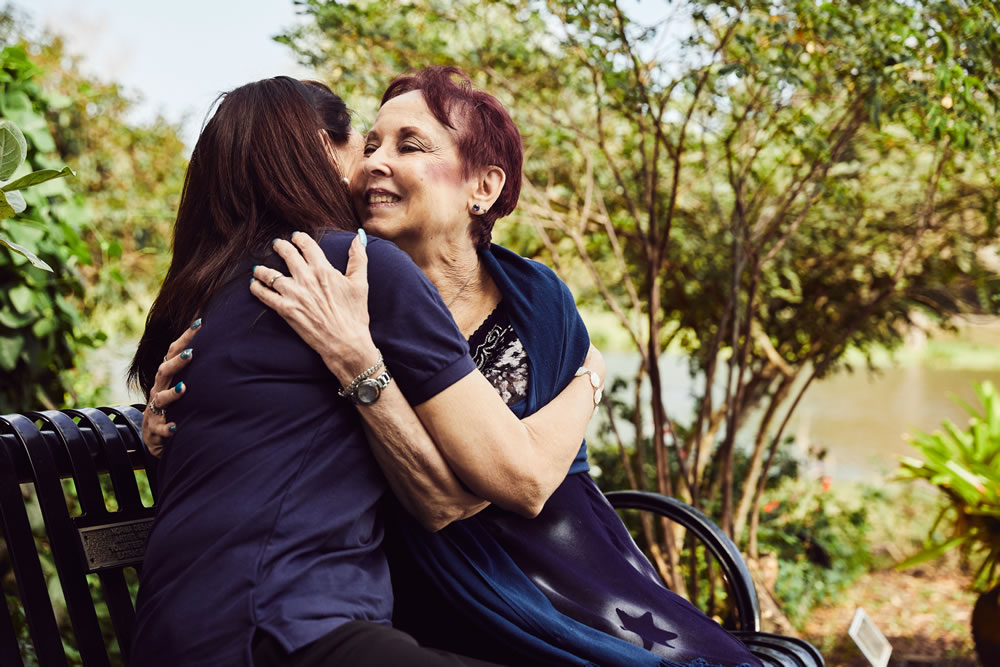 Think a Loved One Might Benefit From Memory Care? 
If you're starting to notice your loved one is having trouble maintaining everyday tasks because of their memory and it's affecting their health and wellbeing, it might be time to discuss memory care with them. 
Visit Brookdale.com to learn more about memory care and find a community near you. 


Source link : onbetterliving